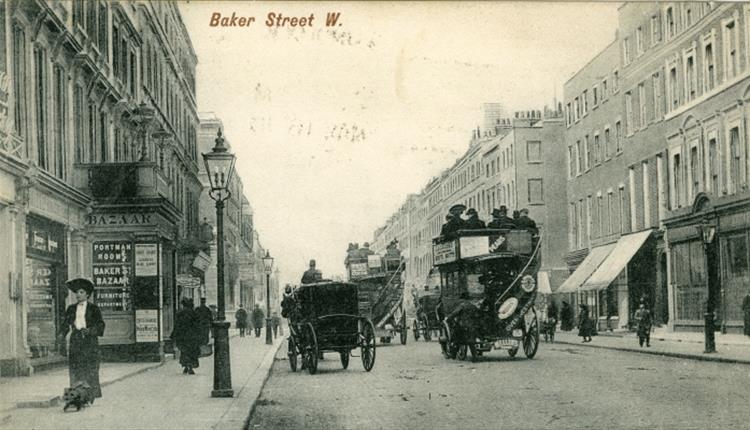 About
Treasure of the Month - December 2013
Baker Street, looking west
221B Baker Street is, of course, Sherlock Holmes's fictional address. When Conan Doyle wrote the stories, the house numbers didn't reach 221 - situating it in a general area without tying it to a particular house. However, this imprecision has only served to generate various theories about where Conan Doyle intended 221B to be situated.
As well as Sherlock Holmes, other fictional detectives - Basil the Great Mouse Detective, Sherlock Hound, Danger Mouse, Sexton Blake - have had their homes in Baker Street; Basil of Baker Street is said to live at 221½ Baker Street, in a mouse hole below 221B.
During the Second World War The Special Operations Executive had their headquarters in Baker Street and the staff and operatives were often referred to as 'Baker Street Irregulars', after the gang of street urchins who appear in some of the Sherlock Holmes stories.
Baker Street underground station is one of the original Metropolitan Railway stations and was opened in 1863. Richard Lancelyn Green, with others from the Sherlock Holmes Society of London, was closely involved with the design and erection of the Sherlock Holmes statue outside the station. Inside the station there are many references to Sherlock Holmes, including tiles showing a silhouette of him.