Conan Doyle the cricketer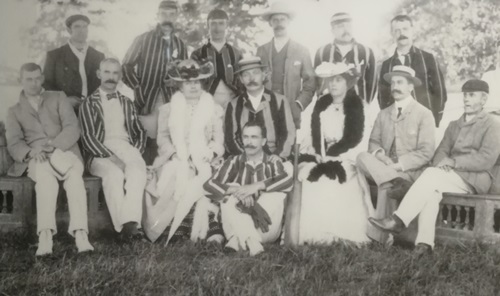 This photograph of Conan Doyle's cricket team was taken in the 1890s. Conan Doyle is seated in the centre with his wife, Louisa (Touie), to the left and his sister Connie to the right with her husband, E W Hornung, standing behind.
Cricket was one of Doyle's passions, he played cricket throughout his life in many different teams. He played for his school Stonyhurst and joined the Norwood cricket club, soon after he moved to London, and travelled with them to play cricket in Holland. He also played for the Allahakbarries, an amateur cricket team founded by author J. M. Barrie and active from 1890 to 1913. The team was named by Barrie, both after himself and in the mistaken belief that 'Allah hu akbar' meant 'Heaven help us' in Arabic (rather than 'God is great'). As well as Conan Doyle, notable players included: Rudyard Kipling, H. G. Wells, P G Wodehouse, G K Chesterton, Jerome K Jerome, A A Milne and E W Hornung. Conan Doyle also played for the Marylebone Cricket Club (MCC) and one of his greatest thrills came from bowling out the legendary cricketer W G Grace.
He used sports similes and metaphors throughout his writing, both fiction and non-fiction. He believed that the moral dimension of sport was very important. He wrote, in Memories and Adventures, "To give and to take, to accept success modestly and defeat bravely, to fight against odds, to stick to one's point, to give credit to your enemy and value your friend…these are some of the lessons true sport should impart".
Find out more about Conan Doyle's sporting life
Next: Conan Doyle's letter to Mr Chapman