Conan Doyle arrives in Portsmouth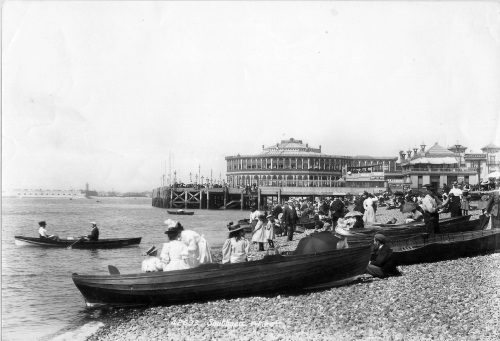 This is a photograph of Clarence Pier, Southsea in about 1900 and is similar to how it would have looked when Conan Doyle first arrived from Plymouth in the early1880s.
The story of Sherlock Holmes begins in the summer of 1882, with the arrival of a young Dr Arthur Conan Doyle in Portsmouth. Conan Doyle arrived in Portsmouth with few possesions, next to no money but with ambition for the future.
By this point in history, Portsmouth was one of the busiest towns in England – known as the port of the origin of Admiral Lord Nelson's Victory on its way to the Battle of Trafalgar; the departure point for the first European setters to Australia, and the home of the Royal Navy fleet that helped prevent the international trade.
In the opening page of A Study in Scarlet, Dr John Watson describes his return from India, after being injured on campaign: "…landed a month later on a Portsmouth jetty with my health irretrievably ruined…"
Find out more about Conan Doyle's life before and after his time in Portsmouth