Sidney Paget letter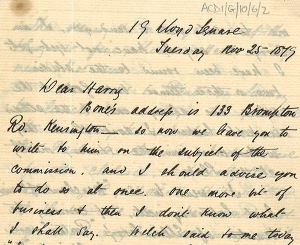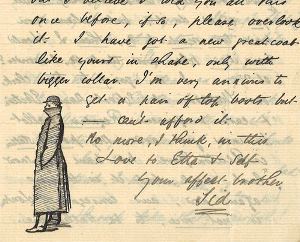 This is a letter written by Sydney to his brother, Harry, written on 25th November, 1879.. It reads:
"19 Lloyd Square
Tuesday Nov 26 1879
Dear Harry
Bone's address is 133 Brompton Rd, Kensington so now we have you to write to him on the subject of the commission and I should advise you to do so at once. One more bit of business and then I don't know what I shall say. Welch said to me today "Is Harry going to Naples" I answered I did not know, but he says if you are, Mr Welch would five you £10-£15 for a water colour sketch of the ruined temples of (unreadable). If it won't be worth your while to do so, but of course, he did not know whether it would, And would it?
How are you getting on with work, what is Etta doing? The Romola plates that you wished.
Page 2
On Friday at Rose's will be read "As you like it" a few characters as follows – Rosaline – Janet , Audrey – Helen. Touchstone – Mr Raynes, Jaques – Mr Rose, Orlando – Arthur R, Adam and William – Self , Corin, and Charles – Ernie.
On Tuesday next at 17 Fitzroy St "Richard II – Ernie, Bolingbroke – Sid, But I believe I told you all this once before, if so, please overlook it. I have a new greatcoat like yours in shape, only with a bigger collar. I'm very anxious to get a pair of top boots but can't afford it.
No more, I think, in this. Love to Etta and Self, Your affect. Brother, Sid."