The Scarlet Claw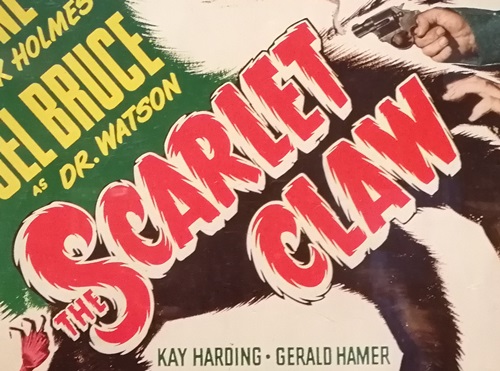 This is the eighth film in the Rathbone/Bruce series. Although it is not adapted from a Conan Doyle story, it bears a resemblance to The Hound of the Baskervilles.
Holmes and Watson are in Canada attending a conference on the occult. Bfore leaving they receive a telegram from Lady Penrose asking for their help as she fears for her life. She dies and the death is blamed on the supernatural. Lady Penrose was a famous actress who had been involved in a murder case. Holmes believes this is the reason for her death and that the killer is masquerading as a villager.
The director, Ray William Neill, an expert on Sherlock Holmes, paid meticulous attention to detail.
Next: Sherlock Holmes and the Spider Woman