Hound of the Baskervilles by Cook and Moore
There are two poster in the exhibition promoting the 1978 spoof comedy starring Peter Cook as Sherlock Holmes and Dudley Moore as Dr Watson. The film also stars: Denholm Elliott, Joan Greenwood, Hugh Griffith, Irene Handl, Terry Thomas, Max Wall, Penelope Keith, Spike Milligan and Kenneth Williams.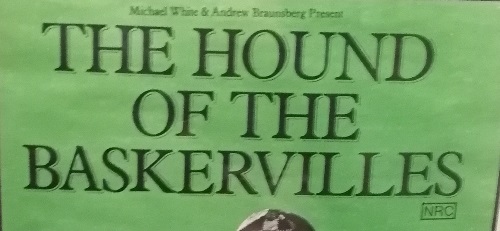 "Sir Arthur Conan Doyle would turn in his Harris Tweeds if he saw what Pete and Dud have done to is classic tale of old rubbish!"
"Can Watson survive the threat of the dreaded twin peaks and still play the swingle in public?
"If Holmes and Watson step in all the evidence on the moors, will the Hound take fright and catch the first train back to London?"

Holmes (Cook) has just restored a stolen artefact to three French nuns, and is later called on a case by Dr. Mortimer (Terry-Thomas) concerning Sir Henry Baskerville (Kenneth Williams) and a legendary hound that curses the Baskerville estate. Tired and worn out by so many cases, Holmes passes the case onto Dr. Watson (Moore), who is portrayed as a Welsh eccentric.
Unfortunately, the film received appalling reviews despite the comedy talent of its stars and cast. It wasn't released in the United States until 1981.