Beeton's Christmas Annual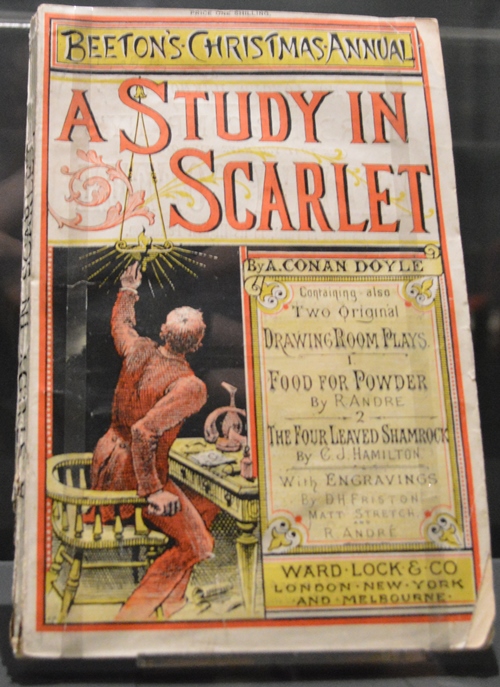 The first Sherlock Holmes story, A Study in Scarlet, was written in less than six weeks during the spring of 1886. Arthur Conan Doyle received a single payment of £25 from the publisher - the only money he ever received for the novel.
He couldn't possibly have imagined that more than 150 years later the original publication would be extremely rare, and highly valuable.
However, the story, and its main characters, attracted little public interest when it first appeared in the Beeton's Christmas Annual for 1887.
A Study in Scarlet's title comes from a speech given by Holmes, to his friend and chronicler Watson, on the nature of his work, in which he describes the story's murder investigation as his "study in scarlet": "There's the scarlet thread of murder running through the colourless skein of life, and our duty is to unravel it, and isolate it, and expose every inch of it."
Beeton's Christmas Annual was a paperback magazine printed yearly between 1860 and 1898 and founded by Samuel Orchart Beeton. Beeton was an English publisher, best known as the husband of Mrs Beeton (Isabella Mary Mayson) and publisher of Mrs Beeton's Book of Household Management. He also founded and published Boy's Own Magazine (1855–90), the first and most influential boys' magazine. This is one of only 11 complete copies known to be in existence today.
Next: The Adventures of the Creeping Man