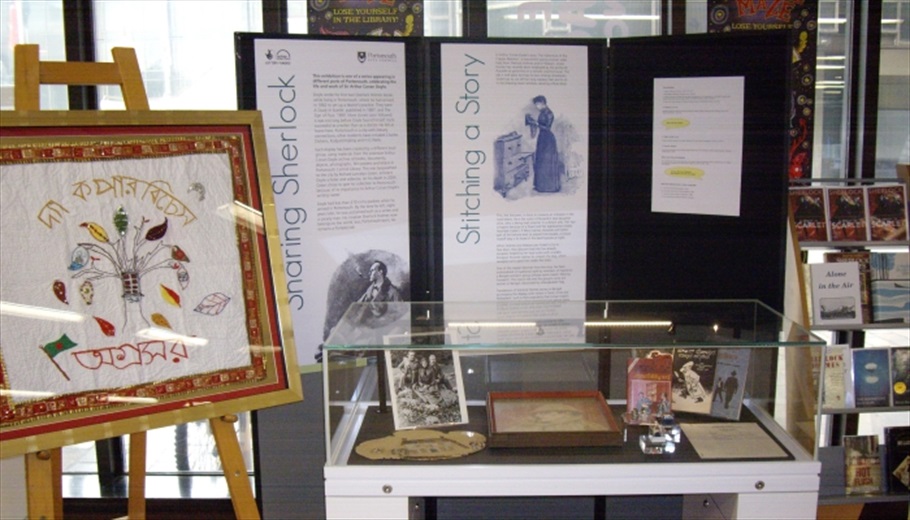 Our work
Our aim is to publicise the Conan Doyle Collection locally and internationally. To do this, we attend and create local events and work with other partners on projects to promote access and to the Collection.
City Of Stories

Portsmouth City Council have been awarded a grant by Arts Council England to deliver the project City of Stories. A two year programme of activities consisting of a festival of stories, creative writing, storytelling and narratives via a range of media. This work will be inspired by the Arthur Conan Doyle Collection, that of other local writers and the City Archive.
Writers, poets, storytellers and artists will inspire a creative programme and stories will be celebrated through:
Four story centres based within four of the libraries
Summers of Sherlock, 2018 & 2019
Portsmouth Short Story Competitions, children and adults
Book Fest
City Read - Stardust by Neil Gaiman 2018, TBC 2019
Poet in Residence, Portsmouth History Centre
Conan Doyle group workshops in History Centre
The programme will provide networking and support to enhance a robust literary community.to deliver beyond the life of the project.
Our key aims are:
Celebrate Portsmouth stories from the archives
Provide inspirational opportunities for people to learn from the archives
To increase participation with archives by transforming means of access
To raise awareness of archives and enhance the sense of ownership and
community cohesion
Increase the number and breadth of residents engaging with great writers and
storytellers
Embed partnerships between cultural partners and creative providers
To build skills and resilience in staff and volunteers

ARVON Writers Residency
In January 2018, 8 blind and partially sighted writers and 5 sighted writers took part in an opportunity to have a week long residency at The Hurst in Shropshire. The week was supported by tutors Jake Arnott and KerryYoung. Using the theme of crime writing, each writer developed their practice, and will be showcasing their work in Portsmouth, Summer 2018.
RNIB Sensing Culture
Sensory Exhibition
We have been working with the Royal National Institute for the Blind on a project funded by the Heritage Lottery Fund to assist five museums in the South East in making their collections more accessible for blind and partially sighted visitors.

The Conan Doyle Collection has developed a mini touring exhibition which will give visitors with visual impairments or other disabilities the ability to experience the Collection through audio description and handling objects with a difference.
If you would like to hire the exhibition, please contact Laura - Laura.Weston@portsmouthcc.gov.uk.
Find out more about Sensing Culture