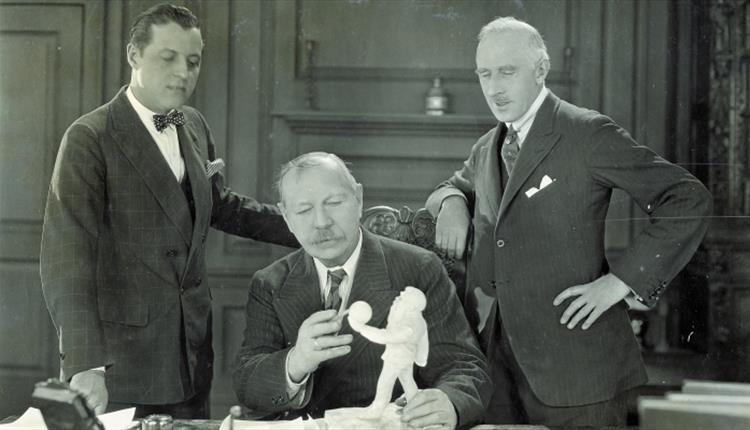 About
Treasure of the Month - May 2014
Photograph of Arthur Conan Doyle pointing to a statue of Professor Challenger, with the animator, Willis O'Brien, and producer, Harry O Hoyt, of the First National film of The Lost World, July 1924 (May 2014).
The Lost World is the first and best known of the Professor Challenger novels. Conan Doyle researched all aspects of the story before he wrote it. He discussed the practicalities of organising and leading an expedition with the explorers Percy Harrison Fawcett (whose exploration of Bolivia was a major source of inspiration for the novel), Robert Peary, Ernest Shackleton, Robert Scott, and Roger Casement (who was British Consul in Brazil at the time); he read the latest thinking on dinosaurs and other prehistoric animals (the novel is thought to be the first reference to pterodactyls in fiction!), and made his own forays into fossil-hunting.
The story is full of dramatic incident, and has been adapted for the cinema several times. The 1925 film (for which the models in the photograph were made) was the first feature-length film to include stop frame animation. Willis O'Brien went on to use this technique in the first King Kong film (1933).